At Vento Consulting, we are acutely aware of the importance of recruiting the right talent in today's challenging business environment. We believe that not only industrial know-how, but also the suitability of the competencies to the company's culture are crucial in determining the right professionals for companies. Here at Vento Consulting, in addition to assessing the technical know-how of our candidates through an integrated research process in several industries, evaluating the suitability of candidates' competencies with our clients' corporate culture is another milestone for the success of our research. With this approach, in our Research and Replacement practice, we serve our clients as consultants with a selective database, an integrated methodology and in-depth knowledge on several industries.

Our consultants' industrial experience and our methodical approach allow us to identify the most suitable talent for your organization. Our recruitment services include:

Vento Consulting can help organizations build high-performance leadership teams through an integrated research methodology that evaluates critical business needs and directs our consultants to identify the best talent for your organization. Our experience in diverse industries and functions, and our international outreach enhance our ability to conduct detailed and to-the-point researches and determine the best talent for our clients.
Star Programs

In Today's competitive world, organizations realized the importance of hiring the best human capital for entry level positions and keeping them within the organization at diverse positions to capitalize their potential. Vento Consulting conducts several studies nationally and internationally to reach best educated and experienced candidates for our clients.

Downsizing the companies during economic crisis is hard to manage and stressful. During re-orientation, helping redundant employees and supporting them to evaluate their career increase the image of the company in the market in the long-run.
Vento Consulting can help companies outplace their redundant employees through practical and psychological support services such as career evaluation, career guidance, resume writing, interview preparation with mug interviews, job market targeting and network development. Our outplacement services can be either one-on-one sessions or group studies.

On-site Services

Human Resource departments sometimes face difficulties in fulfilling certain tasks during specific periods such as high volume staffing or because company has limited Human Resource personnel.
Vento Consulting can help their clients evaluate our clients' needs and offer a tailor-made on-site service that will show cost savings along with increased efficiencies. Our consultants based on-site with our clients give a consultative, professional and honest service and manage several roles such as:
Recruitment
Organizational Design and Change Management
Performance Management
Training and Management Development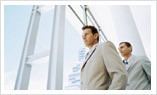 Our services consist of practise lines where our company has focus on and expertise in tens of locations .
Consulting
Research & Replacement
Outsourcing
Training & Seminaars