In today's world, organizations are in need of top talent executives with experience, vision and skills that can design and manage a work environment where winning strategies are created and that can direct and motivate their team in order to successfully implement these strategies.

Our approach to Executive Search projects is to bring parties together for mutual benefit. Please feel free to share your CV with us and keep it updated. At Vento Consulting, we always treat personal information as confidential and never share your information with our clients without your permission.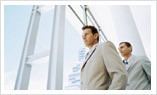 Through Vento Consulting, you can easily share your confidential resume and be entered onto our database regardless of industry or location. You can also update your information anytime.
Please send your resume to info@ventoconsulting.com and shortly explain your career objectives. Always make sure that your information is kept confidential.

Use Titles or Headings That Match The Jobs You Want
Use Design That Grabs Attention
Create Content That Sells
Quantify and Use Power Words
Analyze Ads and Job Descriptions to Identify Key Words
Identify and Solve Employer's Hidden Needs
Sell the Benefits of Your Skills
Prioritize the Content of Your Resume
Tweak and Target Your Resumes and Cover Letters
Create An Image That Matches The Salary You Want