As Vento Partners, we focus all our efforts on increasing our clients' organizational performance. We see our previous experiences, industrial know-how and business network as our differentiating points. Through several projects for several international companies both in Turkey, USA, Europe and Middle East, our partners had chance to work with executives having international experiences and looking for global success.
In addition, our distinctive approach helps us bring success to our clients. We believe that working with the industry-specific experts during the project helps us to successfully structure the important milestones of the projects. Our methodological approach also helps us to manage the quality of service that we provide. In addition, during our research and replacement projects, our talent and culture based assessment in evaluating our candidates helps us give high-quality service that brings long term success to our clients.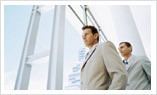 The services that Vento Human Capital provides ranges from research and replacement projects to organizational consulting projects that help clients maximize the benefits of their human capital in order to best match market needs considering their vision in the market.