Several companies don't want to hire people for certain departments and instead outsource certain departmental works in order to focus on their main expertise areas. Vento Consulting provides permanent workforce that follows your certain departmental needs.

Temporary Workforce Service

In addition to Permanent Workforce, Vento Consulting can provide temporary workforce that follows your certain projects and departmental needs.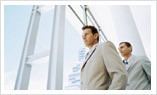 Our services consist of practise lines where our company has focus on and expertise in tens of locations .
Consulting
Research & Replacement
Outsourcing
Training & Seminaars